Episodes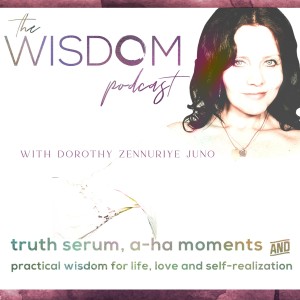 Tuesday Jun 15, 2021
Tuesday Jun 15, 2021
'ask dorothy'
What's Beneath Your Anger?| A Real Life Client Story
The WISDOM podcast  Season 2 Episode 81
A recent session with my client Hayley illuminated what we have all experienced; and what surfaced during our time together was the simplicity of what you can do to help yourself in situations where you feel an unwanted and uncomfortable emotion. In Hayley's case, she identified it as agitation, irritation, and a growing feeling of anger.
I dove right in to the question: What's beneath the anger? Hayley laughed and replied, "Good question!"
Sometimes we just need to stop for a moment and do a deep dive into our self. Our focus can be on getting through something or pushing past an emotion and we may not realize how important it is to stop and acknowledge our feelings. Hayley knew immediately why she was feeling unnerved and – her words: "unraveled".
The name of my client has been changed to maintain confidentiality. Her story is real.
Resources and Recommended Reading:
Sending you great 💜love...
Sharing the wisdom and beauty of divine love with you...
Namaste!
If you have a question or if you would like my guidance or help, please reach out to me:  dorothy@dorothyratusny.com
Find all Episodes of The WISDOM podcast here  
Love in your inbox?  Subscribe to my weekly WISDOM Notes here
Visit me on social media💜 :  Twitter   Instagram
More Resources and Love:
*  This Is A Self-Love Movement  [YouTube Video]
* The Ultimate Self-Love WISDOM toolkit
* Self-Love: A Meditation to Heal Your Life  [The Wisdom Archives]
A generous 'thank you' to Audio Engineer, P. Kirpikau  radioplato
Podcast Theme Music: 'Aura' from the Album, Illuvia by Eternell  www.eternell.net/album/illuvia