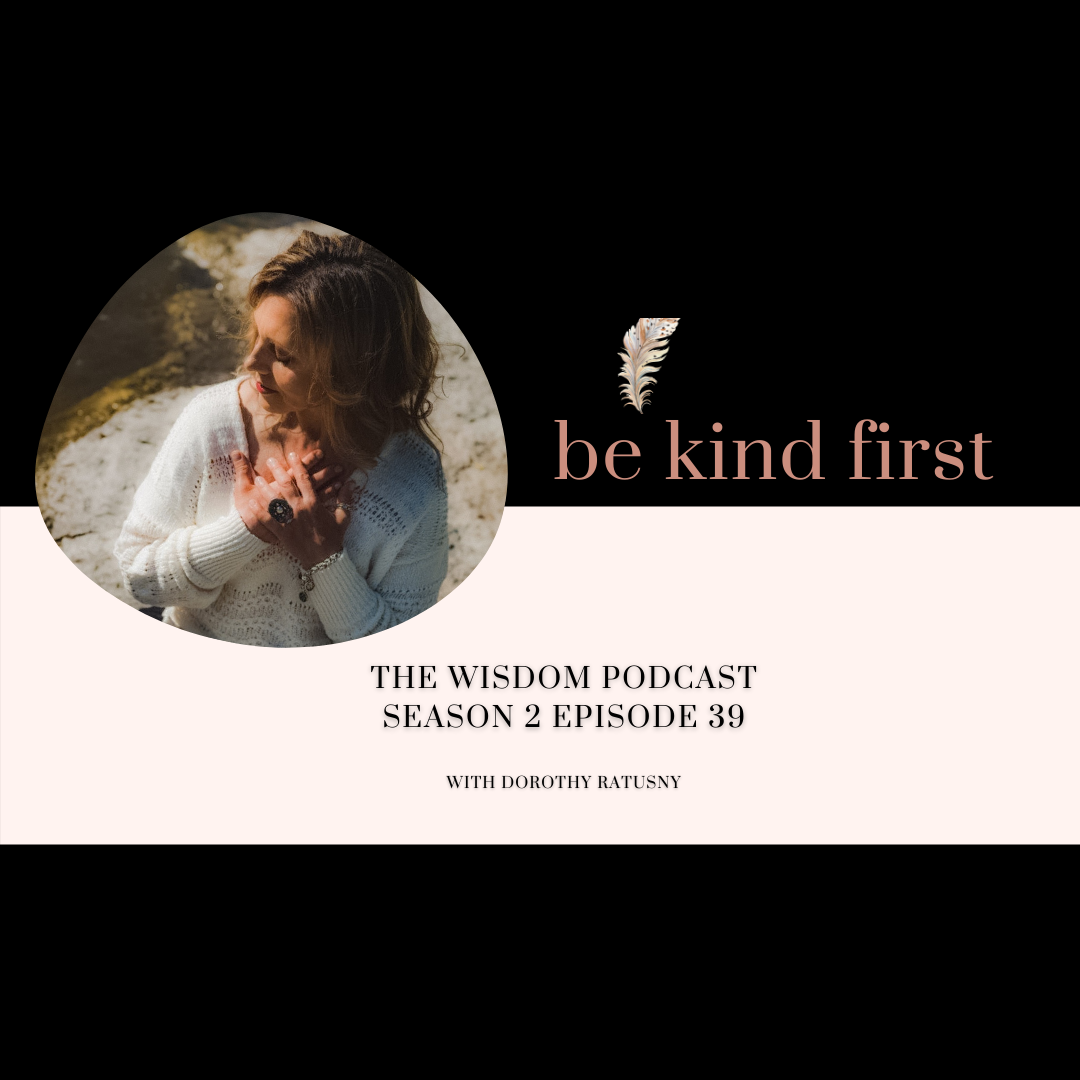 Be Kind First
The WISDOM podcast  Season 2  Episode 39
with Dorothy Ratusny
It's something that we all need to become better at as we seek to grow our consciousness; to live inspired by what fulfills us and evokes deeper meaning and purpose.
TRUTH SERUM:  When you practice kindness purposefully, you limit the focus on negativity, judgment, and criticism; you open your mind and your heart to what truly matters. For example, it matters far less if you are right or believe to be better than another. What matters is your honour; to be of your word, your light, to continue to do your best, to always seek self-improvement because this is what enables you to rise up; and to do the right thing, even when others may not choose so.
A-HA MOMENTS:  As you look forward; as you reflect upon the importance of what we all have experienced; a global pandemic, and a virus that is not going away; it is here; an inescapable reminder that we all must share the same values of loving-kindness, of honour and respect for ourselves and all living beings; of raising our consciousness and for being clear that it is no longer "okay" to cause damage; to cause suffering whether in our actions unto the environment and the planet, or in unkind and unloving thoughts, words and actions toward our self or any other living being.
PRACTICAL WISDOM:  In being reminded of what is most important in your life... choose kindness first.  In returning to the importance of kind action, are you ready? Are you ready to seek to live this in all places in your life beginning with your mind influenced by the new thoughts that you choose to hold?
Here I share with you a simple cognitive approach that also opens your heart to give and receive kindness and to help you in the moments when it may be difficult to be kind; and where your previous reaction may have been a lack of kindness. Let me show you as we experience this together.
We also discuss the science of why kindness is so important; including its measurable impact on your DNA, your immune system, and the symptoms of anxiety, depression, and pain. 
Join me for the science and the love of why you need to be kind - first.
*I'd like to acknowledge the work of Janae Weinhold, Ph.D. as I've included a section largely verbatim from her article: The Science of Kindness.  Please check it out as well as her website for more. 
*If you have a question or if you would like my guidance or help, please reach out to me:  dorothy@dorothyratusny.com
A generous 'thank you' to Audio Engineer, Pavel Kirpikau  radioplato 
 Podcast Theme Music: 'Aura' from the Album, Illuvia by Eternell  eternell.net
Accompanying Music: Eternell - 'Alcyone -energy transmission' and 'Juli 31'
Sharing the wisdom and beauty of divine love with you...
Namaste!