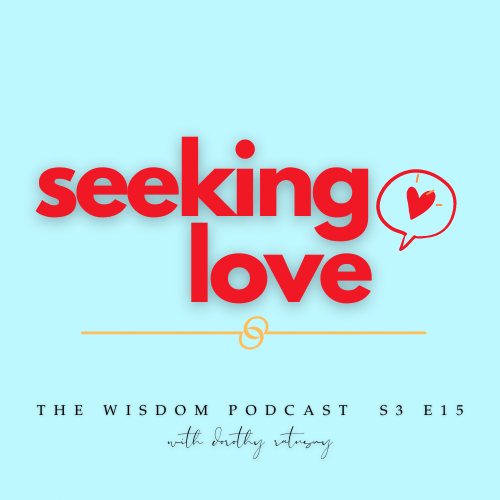 'ask dorothy'
Seeking Love. | A Real Life Client Story
The WISDOM podcast  Season 3  Episode 15
- Because knowing your beauty is far more valuable than being told of it.  -
💜
This client story may resonate with you because it illuminates an important theme in all of our lives; and perhaps most important for all women who have at one time or another looked to their father or any man for reassurance, approval, acceptance and love.
In this episode of 'ask dorothy', I highlight my client's journey into self-approval and self-love and how she arrived here; her father's absence in her life and the real experience of abandonment by him that she continued to carry the burden of even though rationally she knew that her father left her mother - and not her.
For my client Samantha, it was about proving herself worthy of love and going above and beyond in each of her love relationships, often to the extent of forfeiting her personal needs in order to find and feel love - love that was always going to be external to her, and love that was often conditional because Samantha was choosing men that unknowingly to her, were much like her father – emotionally unavailable and not skilled in being able to express and connect using their communication of feelings.
As a young girl, a daughter looks to a father for how she is valued and received by members of the opposite gender – not in a sexual way, but rather to feel pretty and beautiful and to be commended for one's intelligence, confidence, grace, strength, perseverance, and any other of the positive qualities that empower a woman.
If a girl's confidence is encouraged, if she is supported to use her voice, to stand by her morals, to not settle or acquiesce to other's ideals, then a father (and a mother) have done well to raise an independent and self-assured female who is confident in her pursuit in life.
Please check out the list of resources below for all of the goods including The Ultimate Self-Love toolkit. 
If you would like my help to feel love from within, and to make this your regular state of  being, please reach out to me.  namaste! 🙏
Sending you great 💜 love...
Sharing the wisdom and beauty of divine love with you...
Namaste!
If you have a question or if you would like my guidance or help, please reach out to me:  dorothy@dorothyratusny.com
Find all Episodes of The WISDOM podcast here  
Love in your inbox?  Subscribe to my weekly WISDOM Notes here
Visit me on social media💜 :  Twitter   Instagram  Facebook
More  l o v e  and  w i s d o m:
* How to Live As Love  [YouTube Video]
* The Kindness Challenge [Read The WISDOM BLOG post here]
* Live Your Greatness [Podcast Episode Season 1]
* This Is A Self-Love Movement  [YouTube Video]
* The Ultimate Self-Love WISDOM toolkit
* Self-Love: A Meditation to Heal Your Life  [The Wisdom Archives]
* Do You Let Love In? How to Feel Deserving of Love  [Podcast Episode]
* Work with Me [Life Coaching & Therapy]
A generous 'thank you' to Audio Engineer, P. Kirpikau  radioplato
Podcast Theme Music: 'Aura' from the Album, Illuvia by Eternell  www.eternell.net/album/illuvia