Episodes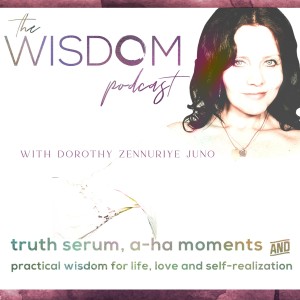 Tuesday Jan 10, 2023
Tuesday Jan 10, 2023
YOUR MANIFESTING 'MOJO'
'ask dorothy' | Q & A
The WISDOM podcast  Season 3  Episode 72
~ Live your life as if everything is here already and right before you. ~
💜
The episode is all about love...
It's about what you need to experience with your heart ~ what is most wanted and what is already in store for you.
Any desire of the mind must activate your heart centre.  If you truly want to hone the magic of manifesting ~ as mysterious as it is spiritual ~ you need to hold the grace of what is wanted in your heart.
Let it be here from your heart wisdom that you generate the ideas and inspiration that will easily celebrate all that you hold the potential to be and live.
This is an experiential episode of 'ask dorothy' in which I pose the question to you.  Your answers become the inspired vision for what you will seek and live most deliberately.
The questions I ask in this episode:
You may wish to place one or both hands onto your heart centre as you connect inward ~ to your true source of power and wisdom.
What is next?
What is most important to me, for me?
What is my heart's true desires?
What is my heart's ultimate desires?
What is the next step of my journey?
What else?? 😁
I encourage you to write these questions 📝 and to ask these of yourself again ~ especially if you intend to continue to manifest all that you desire... as an ever-evolving outpouring of your heart's desires. 💜
Please reach out to me if you would like to work together... 
Life Coaching/Life Mapping/Therapy
Life Lines ~ Message-based Coaching/Therapy
Send your questions to me!  
askdorothy@dorothyzennuriyejuno.com
A generous 'thank you' to Audio Engineer, P. Kirpikau  radioplato
Podcast Theme Music: 'Aura' from the Album, Illuvia by Eternell  www.eternell.net/album/illuvia