Episodes
Tuesday Mar 08, 2022
Tuesday Mar 08, 2022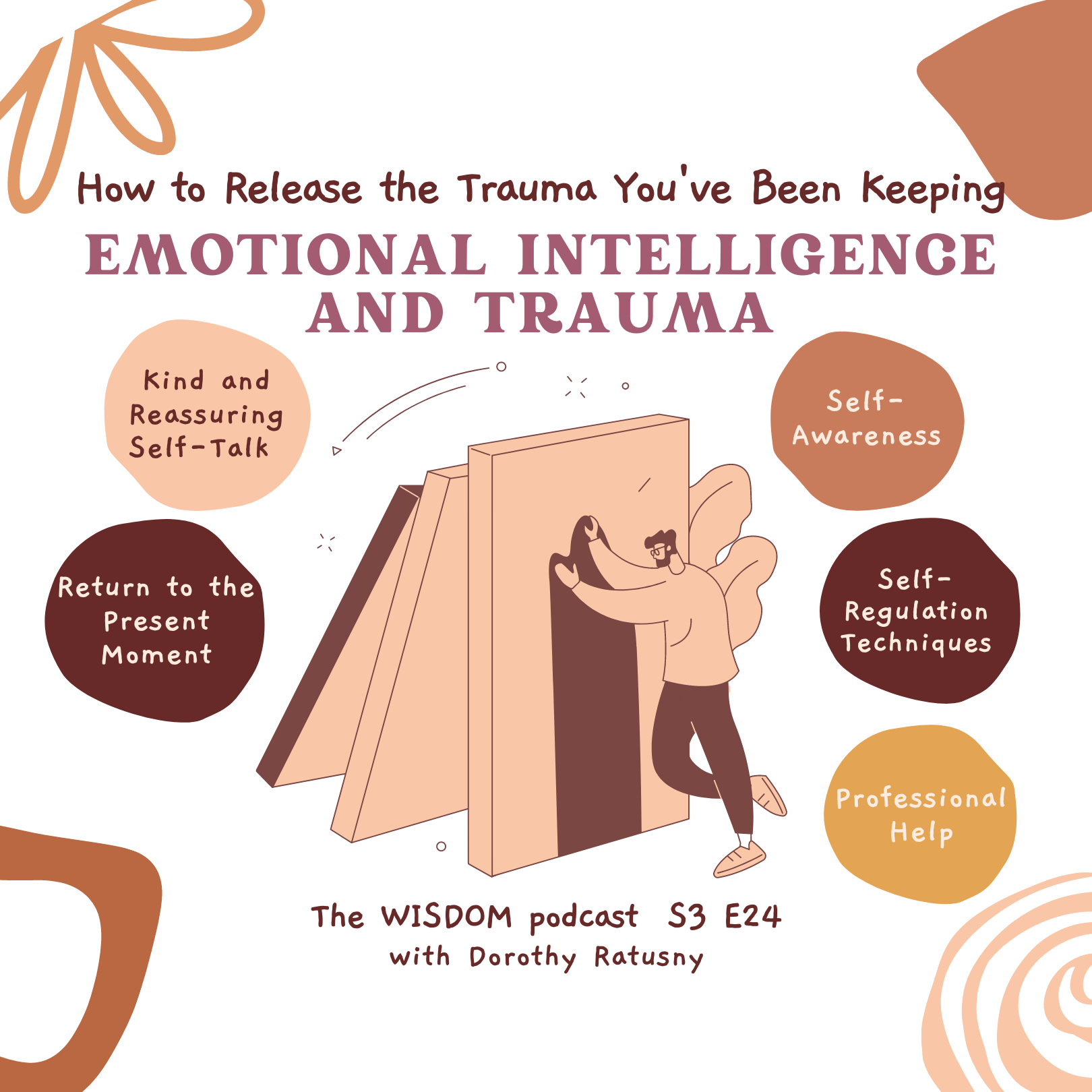 'ask dorothy'
How to Release the Trauma You've Been Keeping. Emotional Intelligence and Trauma | A Real Life Client Story
Part 3/3 on Emotional Intelligence
The WISDOM podcast  Season 3 Episode 24
Warning: Sensitive Content
~ Your past trauma does not define you. ~
Here in Part Three of this series, we discuss how trauma impacts emotional reactivity – namely, situations where you are triggered based on a previous trauma - thereby causing the same or a similar heightened emotional reaction.
How well you react in a present moment situation that is triggered by a past trauma is reflected in your level of emotional intelligence.
Since trauma can alter brain functioning and therefore our ability to regulate emotions, we dive into how the brain is impacted by trauma and the importance of neuroplasticity - making it possible to re-wire our brain, to learn healthy coping responses and to change your fear reaction in perceived and real situations of stress.
Thank you so much for joining me in this 3-part series on emotional intelligence. Please share out each of these episodes with a loved one who could be helped by building greater emotional intelligence.
Each Tuesday at 8pm EST, I take you on a journey - inside - what happens in a session of Life Coaching and Therapy in the 'ask dorothy' series as we answer the questions that honour your path and your life.
If you would like my help to build your Emotional Intelligence as one part of your plan to overcome the reactions of a traumatic experience, please reach out to me.  namaste! 🙏
Sending you great 💜 love...
Sharing the wisdom and beauty of divine love with you...
Namaste!
Find all Episodes of The WISDOM podcast here  
Love in your inbox?  Subscribe to my weekly WISDOM Notes here
Visit me on social media💜 :  Twitter   Instagram  Facebook
Emotional Intelligence and Trauma Resources:
* Part 1/3: Your Emotional Self Needs to Learn This  [Podcast Episode]
* Part 2/3: Somewhere Between the Rage and the Silence: Mastering Self-Regulation [Podcast Episode]
* Mindfulness Practice in the Treatment of Traumatic Stress  [National Centre for PTSD]
* Why Taking a Deep Breath Feels Good  [Medium]
* Your Vagus Nerve  [Online Resource] 
* The Amygdala Hijack  [Online Resource]
* Emotional Intelligence by Daniel Goleman  [Book]
* Emotional Alchemy by Tara Bennett-Goleman  [Book]
* Developing Emotional Intelligence [YouTube Video]
* Live Your Greatness [Podcast Episode Season 1]
* The Ultimate Self-Love WISDOM toolkit
* Self-Love: A Meditation to Heal Your Life  [The Wisdom Archives]
* Work with Me [Life Coaching & Therapy]
A generous 'thank you' to Audio Engineer, P. Kirpikau  radioplato
Podcast Theme Music: 'Aura' from the Album, Illuvia by Eternell  www.eternell.net/album/illuvia