Episodes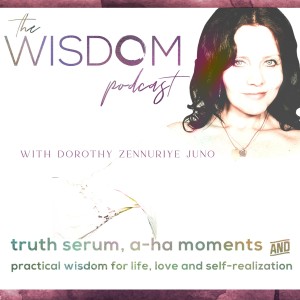 Wednesday Jun 09, 2021
Wednesday Jun 09, 2021
'ask dorothy'
Social Anxiety: What You Don't Want People to Notice| A Real Life Client Story
The WISDOM podcast  Season 2 Episode 79
Have you ever felt anxious or awkward in social settings?
I explained to my client Kara that social anxiety is an experience that happens to us all.
An invitation to a party; work colleagues that you know fairly well but there is also a room of other people that you will have only just met. You arrive late and after a long shift at work; but in honesty you've been procrastinating as you got ready and secretly hoped that you could maybe just blow the party off; except you do want to go. When you arrive, everyone is already seated around a large dining table, eating, talking, laughing; and now all eyes are on you. You have difficulty breathing and making eye contact as the host introduces you to each person around the table. You wish you stayed home but everyone seems so friendly, well maybe everyone except her; the woman that staring you up and down. You've forgotten what you've just said to a question someone has asked, and you don't know where you should sit and is that an open seat? ...and why is this so difficult?
These are some of the rapid fire thoughts that cross your mind as your heart is racing; pounding so loud that your own voice seems inaudible. You feel self-conscious; you should have worn the other outfit you had lying on your bed; you dressed up way too much compared with everyone else. What have you gotten yourself into?
Join me in this episode as we discuss:
What is a social situation? 
When does social anxiety becomes a problem?
The symptoms of social anxiety disorder; and
The best treatment approaches.
Please use the following assessment tools to help you:
Online Social Anxiety Self-Assessment 
Resources and Recommended Reading:
Common Signs of Social Anxiety
Social Anxiety Disorder: Resources and Help
Social Anxiety Disorder: More Than Just Shyness
Centre for Addiction and Mental Health: Social Anxiety Disorder
The name of my client has been changed to maintain confidentiality. Her story is real.


Sending you great 💜love...
Sharing the wisdom and beauty of divine love with you...
Namaste!
If you have a question or if you would like my guidance or help, please reach out to me:  dorothy@dorothyratusny.com
Find all Episodes of The WISDOM podcast here  
Love in your inbox?  Subscribe to my weekly WISDOM Notes here
Visit me on social media💜 :  Twitter   Instagram
More Resources and Love:
*  This Is A Self-Love Movement  [YouTube Video]
* The Ultimate Self-Love WISDOM toolkit
* Self-Love: A Meditation to Heal Your Life  [The Wisdom Archives]
* Do You Let Love In? How to Feel Deserving of Love  [Podcast Episode]
A generous 'thank you' to Audio Engineer, P. Kirpikau  radioplato
Podcast Theme Music: 'Aura' from the Album, Illuvia by Eternell  www.eternell.net/album/illuvia