Episodes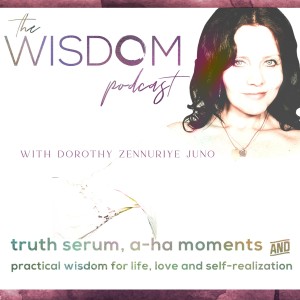 Sunday Feb 12, 2023
Sunday Feb 12, 2023
Freedom of the Mind
How to Detach From Your Thoughts
The WISDOM podcast  Season 3  Episode 80
~ How can you live free of your thoughts?
Can you instead clearly express the voice and wisdom of your heart? ~
💜
How can we enjoy life to the fullest in each sacred moment – to have freedom of mind that is inspired from our consistent ability to choose our thoughts or to choose the absence of thinking?
In this episode I share three of the very best practices to enjoy the freedom of the present moment, to liberate yourself from the thoughts that cause you to suffer, and to find your joy.  Join me!
Resources to Free Your Mind + Episode Highlights:
To hold inspiring thoughts (for example) is to say:
1) How can I be kind and gentle and loving to myself?
and
2) How can I hold a mantra that easily fires up the inspiration that I need to do what I want or need or desire?
The Top Five Reasons Why You Need to Take Mindful Deep Breaths and Often  [The WISDOM BLOG]
Why Taking A Deep Breath Feels Good: The Self-Healing Benefits of Deep Breathing ~ What You Need to Know  [The WISDOM BLOG]
~ Journey with me.... Subscribe to the podcast and enjoy each episode as they are released twice weekly + write a review and share the love (share this episode with someone you love! 💟👌) ~ namaste 🙏
Live Session Info:
I host free weekly 'live sessions.'  Please check them out and join me!
Find my Guided Meditations and more ~ here:
Please reach out to me if you would like to work together... 
Life Coaching/Life Mapping/Therapy
Transformational Coaching Program
More Love and Self-Awareness ~ 👌✨💜
P E A C E ~ A Bliss Meditation  [Podcast Episode]
D E S I R E  &  A B U N D A N C E ~ A Bliss Meditation  [Podcast Episode]
The Niyamas Series
* SAUCHA ~ Purification  [Podcast S3 E49]  * The Niyamas Series: 1/5
* SANTOSHA ~ Contentment  [Podcast S3 E51]  * The Niyamas Series: 2/5
* TAPAS ~ Self-Discipline  [Podcast S3 E53]  * The Niyamas Series: 3/5
* SVADHYAYA ~Self-Study  [Podcast S3 E55]  * The Niyamas Series: 4/5
* ISVARA PRANIDHANA ~ Surrender  [Podcast S3 E57]  * The Niyamas Series: 5/5
The Yamas Series
* APARIGRAHA ~ Non-Attachment  [Podcast S3 E47]  * The Yamas Series: 5/5
* BRAHMACHARYA ~ Non-Excess  [Podcast S3 E45]  * The Yamas Series: 4/5
* ASTEYA ~ Non-Stealing  [Podcast S3 E43]  * The Yamas Series: 3/5
* SATYA ~ Truthfulness  [Podcast S3 E41]  * The Yamas Series: 2/5
* AHIMSA ~ Nonviolence  [Podcast S3 E39]  * The Yamas Series: 1/5
* The 10 Sacred Habits of Meditation  [Online Course @ The School of WISDOM]
* The Four Essential Principles of Meditation  [Online Course @ The School of WISDOM]
* The Ultimate Self-Love WISDOM toolkit
* Self-Love: A Meditation to Heal Your Life  [The Wisdom Archives]
* Work with Me [Life Coaching & Therapy]
A generous 'thank you' to Audio Engineer, P. Kirpikau  radioplato
Podcast Theme Music: 'Aura' from the Album, Illuvia by Eternell  www.eternell.net/album/illuvia