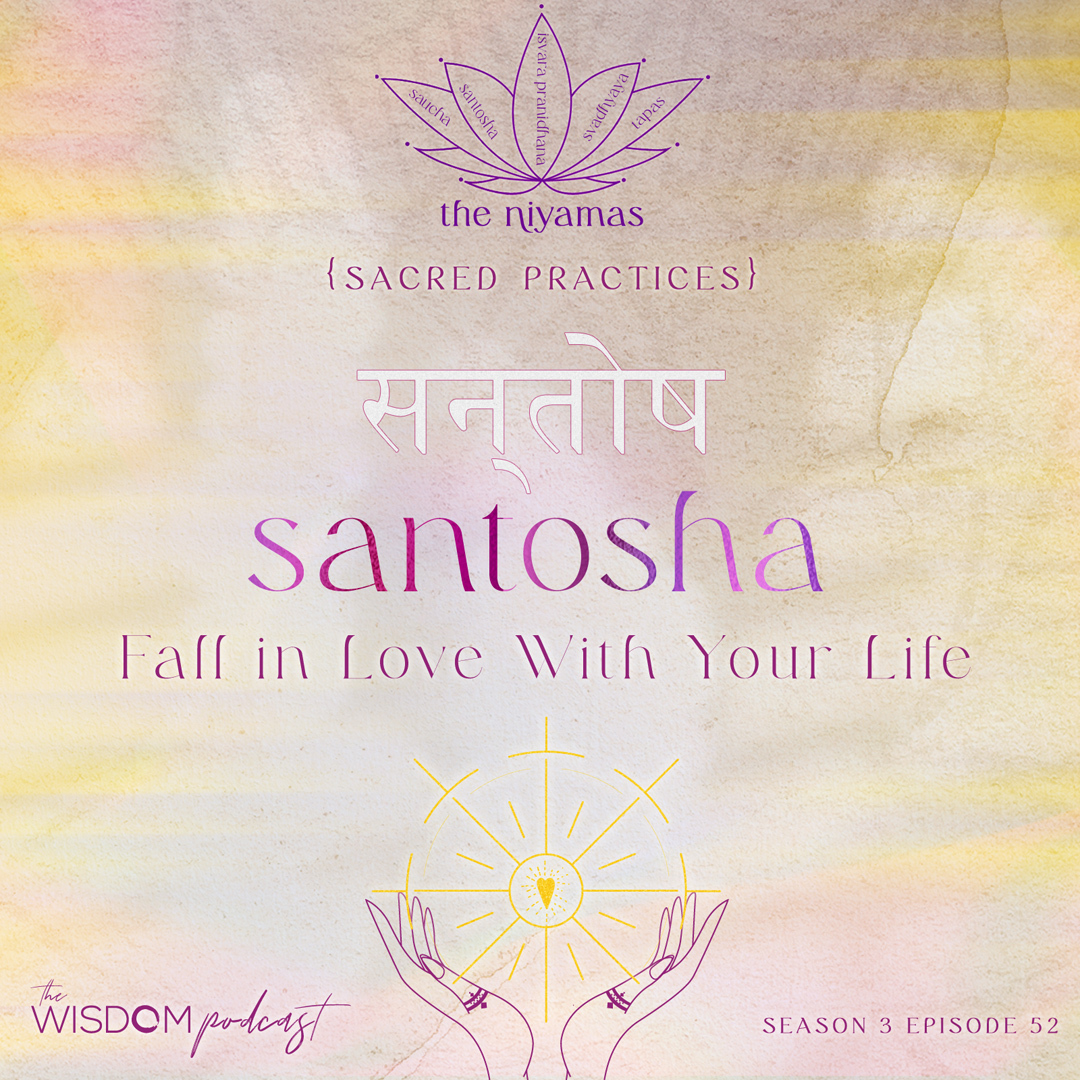 'ask dorothy'
Fall In Love With Your Life
The WISDOM podcast  Season 3  Episode 52
~ Live with the perception that everything is (as I remind clients) ~ 'perfect as it is'.
This is 'Santosha' or contentment. ~
💜
In this episode of 'ask dorothy' I ask you the questions.  They are questions intended to provoke self-introspection, self-realization and a new dialogue for who you want to be.
What can you hold your heart open to? What can you live in full appreciation and contentment of – here and now?
To say the words to yourself 'I AM content' in any moment ~ becomes a visceral and definite reminder of a state of being that you choose deliberately. As you truly align with your words, you are already that much closer to happiness and joy.
We choose contentment because we are present with the experiences of each moment without judging them right or wrong, good or bad.
Something important about the teaching of santosha ~ it calls upon us to acquire the skill of abiding calm – an unshakable centre that exists when you realize that there is nothing missing in each moment. There is nothing missing in your life.
There is also space for you to create whatever you wish for and then to take the steps that will bring what is wanted to you.
If you live with the perception that everything is (as I remind clients) 'perfect as it is' – this is the practice of santosha – to allow life to reveal itself to you in each moment without you needing to control or seek or grasp something different. This is the path and the joy of living content.
I remind clients of this who become mired in their focus upon what is wrong with their lives or who require certain circumstances in order to feel content.
For example, they will be happy once their son graduates from high school because right now he is behind one full semester, or they will be happy when their divorce is complete because it has been dragging for several months and draining their energy, or happy when they lose the weight they have gained and lost and gained again because they continue to self-soothe through eating.
If you remove yourself from the opportunity and the experience of contentment because you are not where you want or need to be ~ it is no different then when I decided I wouldn't enjoy cycling because of the effort of hills to climb without contemplating how one can be content in the moment of the climb.
We climb hills every day metaphorically ~ challenges before us, tasks and responsibilities that need our attention and effort.
If you choose to approach your life content, it will lead you into authentic happiness and it will invite you to experience more of life's wonder and beauty and it will allow you to be content even if you feel discouraged, frustrated, lonely, or sad.
Join me as we discuss how to live in full contentment of your life.  I also share four of the best practices of santosha - contentment for you to live now.  Namaste!!
Sending you great 💜 love...
Sharing the wisdom and beauty of divine love with you...
Namaste!
If you have a question or if you would like my guidance or help, connect with me here:  dorothy@dorothyratusny.com
Find all Episodes of The WISDOM podcast here  
Love in your inbox?  Subscribe to my weekly WISDOM Notes here
Visit me on social media💜 :  Twitter   Instagram  Facebook
More WISDOM and LOVE right here:
* SANTOSHA ~ Contentment  [Podcast S3 E51]  * The Niyamas Series: 2/5
* SAUCHA ~ Purification  [Podcast S3 E49]  * The Niyamas Series: 1/5
* APARIGRAHA ~ Non-Attachment  [Podcast S3 E47]  * The Yamas Series: 5/5
* BRAHMACHARYA ~ Non-Excess  [Podcast S3 E45]  * The Yamas Series: 4/5
* ASTEYA ~ Non-Stealing  [Podcast S3 E43]  * The Yamas Series: 3/5
* SATYA ~ Truthfulness  [Podcast S3 E41]  * The Yamas Series: 2/5
* AHIMSA ~ Nonviolence  [Podcast S3 E39]  * The Yamas Series: 1/5
* Impermanence  'ask dorothy'  [Podcast Episode]
* The Yamas & Niyamas  [Book by Deborah Adele]
* How Do I Become Whole?  [Podcast Episode S2 E56]
* Forgiveness IS F R E E D O M  [Podcast Episode S3 E35]
* Self-Love is 'Being Love'  [Podcast Episode S3 E29]
* Live Your Greatness [Podcast Episode Season 1 Episode 1]
* The Ultimate Self-Love WISDOM toolkit
* Self-Love: A Meditation to Heal Your Life  [The Wisdom Archives]
* Work with Me [Life Coaching & Therapy]
A generous 'thank you' to Audio Engineer, P. Kirpikau  radioplato
Podcast Theme Music: 'Aura' from the Album, Illuvia by Eternell  www.eternell.net/album/illuvia