Episodes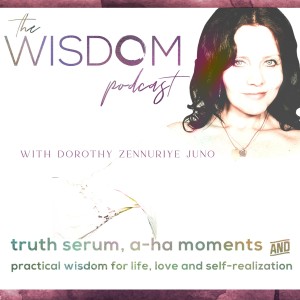 Sunday Feb 05, 2023
Sunday Feb 05, 2023
Cultivating Self-Awareness ~ A Spiritual Practice
The WISDOM podcast  Season 3  Episode 78
 "Approach each day and action with a sense of sacredness. Heed the present moment."
💜
Self-Awareness is the sacred attention you give to yourself in light of all that you are and all that you continue to seek.  ~ dorothy zennuriye juno
Now let's take self-awareness a step beyond...
Sometimes we forget that we are the most ever present source of our own knowledge.
For all that you continue to seek ~ for all that is in the path of your awakened state ~ for all that you bring here and into the present moment, you life becomes the sojourn of your expression.
To cultivate self-awareness is to be present in the moments of your life as they unfold ~ as they hold you near ~ as they reveal the truth ~ the truth that sometimes you are quick to disprove or diminish ~ its possibilities not yet clear.
Instead, the practice is to be willing to look ~ to see ~ to know that what is there ~ what is waiting, what is yours to uncover is ultimately for your benefit ~ your understanding, your free will choice whether to the energy of change you create around this or to let it be as it is.
Seek to know thyself. Know what is yours and what has never been a part of you.
This is the path of wholeness. This is the path to living awake and aware and of discovering the world and your life from a place of true miracles, true messages of goodness, of hope, of dedication, of love that is for you the blessings of life that you live now.
~ Journey with me.... Subscribe to the podcast and enjoy each episode as they are released twice weekly + write a review and share the love (share this episode with someone you love! 💟👌) ~ namaste 🙏
Live Session Info:
I host free weekly 'live sessions.'  Please check them out and join me!
Find my Guided Meditations and more ~ here:
Please reach out to me if you would like to work together... 
Life Coaching/Life Mapping/Therapy
Transformational Coaching Program
More Love and Self-Awareness ~ 👌✨💜
*Would you like my 30-day habit tracker? Just write me!  dorothy@dorothyzennuriyejuno.com
P E A C E ~ A Bliss Meditation  [Podcast Episode]
D E S I R E  &  A B U N D A N C E ~ A Bliss Meditation  [Podcast Episode]
The Niyamas Series
* SAUCHA ~ Purification  [Podcast S3 E49]  * The Niyamas Series: 1/5
* SANTOSHA ~ Contentment  [Podcast S3 E51]  * The Niyamas Series: 2/5
* TAPAS ~ Self-Discipline  [Podcast S3 E53]  * The Niyamas Series: 3/5
* SVADHYAYA ~Self-Study  [Podcast S3 E55]  * The Niyamas Series: 4/5
* ISVARA PRANIDHANA ~ Surrender  [Podcast S3 E57]  * The Niyamas Series: 5/5
The Yamas Series
* APARIGRAHA ~ Non-Attachment  [Podcast S3 E47]  * The Yamas Series: 5/5
* BRAHMACHARYA ~ Non-Excess  [Podcast S3 E45]  * The Yamas Series: 4/5
* ASTEYA ~ Non-Stealing  [Podcast S3 E43]  * The Yamas Series: 3/5
* SATYA ~ Truthfulness  [Podcast S3 E41]  * The Yamas Series: 2/5
* AHIMSA ~ Nonviolence  [Podcast S3 E39]  * The Yamas Series: 1/5
* The 10 Sacred Habits of Meditation  [Online Course @ The School of WISDOM]
* The Four Essential Principles of Meditation  [Online Course @ The School of WISDOM]
* The Ultimate Self-Love WISDOM toolkit
* Self-Love: A Meditation to Heal Your Life  [The Wisdom Archives]
* Work with Me [Life Coaching & Therapy]
A generous 'thank you' to Audio Engineer, P. Kirpikau  radioplato
Podcast Theme Music: 'Aura' from the Album, Illuvia by Eternell  www.eternell.net/album/illuvia