Episodes
Wednesday May 25, 2022
Wednesday May 25, 2022
'ask dorothy' | A Real Life Client Story
The Teaching of Impermanence
The WISDOM podcast  Season 3  Episode 48
~  "This too shall pass."  ~
💜
In this episode of 'ask dorothy' I share a real-life client story (and a little of my own) that speaks to the beautiful nature of the human spirit when we can offer kindness and care to others in the words we speak, in sharing of our chainsaws to help clean up fallen trees and other examples of the actions that convey our oneness.
A grand example of both impermanence and oneness is the world covid pandemic and the fact that 77 countries at this very moment are still deeply struggling as case numbers in this week alone have increased, while in other countries we are quickly choosing to forget the discomfort and personal hardships that we have suffered.
Even as we are in different stages of a shared experience, this global phenomenon is one significant reminder of our oneness as humanity in a way that we typically are not able to see.
In this episode, we see how my client Olivia* chose to face the negativity and criticism among some of her colleagues with a teaching of impermanence and connection, and by practicing the presence of 'oneness'. 
* All clients names and some details of their story are changed in order to protect their confidentiality. 
Sending you great 💜 love...
Sharing the wisdom and beauty of divine love with you...
Namaste!
If you have a question or if you would like my guidance or help, connect with me here:  dorothy@dorothyratusny.com
Find all Episodes of The WISDOM podcast here  
Love in your inbox?  Subscribe to my weekly WISDOM Notes here
Visit me on social media💜 :  Twitter   Instagram  Facebook
More WISDOM and LOVE right here:
* APARIGRAHA ~ Non-Attachment  [Podcast S3 E47]  * The Yamas Series: 5/5
* BRAHMACHARYA ~ Non-Excess  [Podcast S3 E45]  * The Yamas Series: 4/5
* ASTEYA ~ Non-Stealing  [Podcast S3 E43]  * The Yamas Series: 3/5
* SATYA ~ Truthfulness  [Podcast S3 E41]  * The Yamas Series: 2/5
* AHIMSA ~ Nonviolence  [Podcast S3 E39]  * The Yamas Series: 1/5
* Impermanence  'ask dorothy'  [Podcast Episode]
* The Yamas & Niyamas  [Book by Deborah Adele]
* How Do I Become Whole?  [Podcast Episode S2 E56]
* Forgiveness IS F R E E D O M  [Podcast Episode S3 E35]
* Self-Love is 'Being Love'  [Podcast Episode S3 E29]
* Live Your Greatness [Podcast Episode Season 1 Episode 1]
* The Ultimate Self-Love WISDOM toolkit
* Self-Love: A Meditation to Heal Your Life  [The Wisdom Archives]
* Work with Me [Life Coaching & Therapy]
A generous 'thank you' to Audio Engineer, P. Kirpikau  radioplato
Podcast Theme Music: 'Aura' from the Album, Illuvia by Eternell  www.eternell.net/album/illuvia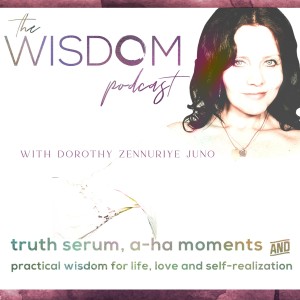 Tuesday Jun 15, 2021
Tuesday Jun 15, 2021
'ask dorothy'
What's Beneath Your Anger?| A Real Life Client Story
The WISDOM podcast  Season 2 Episode 81
A recent session with my client Hayley illuminated what we have all experienced; and what surfaced during our time together was the simplicity of what you can do to help yourself in situations where you feel an unwanted and uncomfortable emotion. In Hayley's case, she identified it as agitation, irritation, and a growing feeling of anger.
I dove right in to the question: What's beneath the anger? Hayley laughed and replied, "Good question!"
Sometimes we just need to stop for a moment and do a deep dive into our self. Our focus can be on getting through something or pushing past an emotion and we may not realize how important it is to stop and acknowledge our feelings. Hayley knew immediately why she was feeling unnerved and – her words: "unraveled".
The name of my client has been changed to maintain confidentiality. Her story is real.
Resources and Recommended Reading:
Sending you great 💜love...
Sharing the wisdom and beauty of divine love with you...
Namaste!
If you have a question or if you would like my guidance or help, please reach out to me:  dorothy@dorothyratusny.com
Find all Episodes of The WISDOM podcast here  
Love in your inbox?  Subscribe to my weekly WISDOM Notes here
Visit me on social media💜 :  Twitter   Instagram
More Resources and Love:
*  This Is A Self-Love Movement  [YouTube Video]
* The Ultimate Self-Love WISDOM toolkit
* Self-Love: A Meditation to Heal Your Life  [The Wisdom Archives]
A generous 'thank you' to Audio Engineer, P. Kirpikau  radioplato
Podcast Theme Music: 'Aura' from the Album, Illuvia by Eternell  www.eternell.net/album/illuvia