Episodes
Sunday Oct 06, 2019
Sunday Oct 06, 2019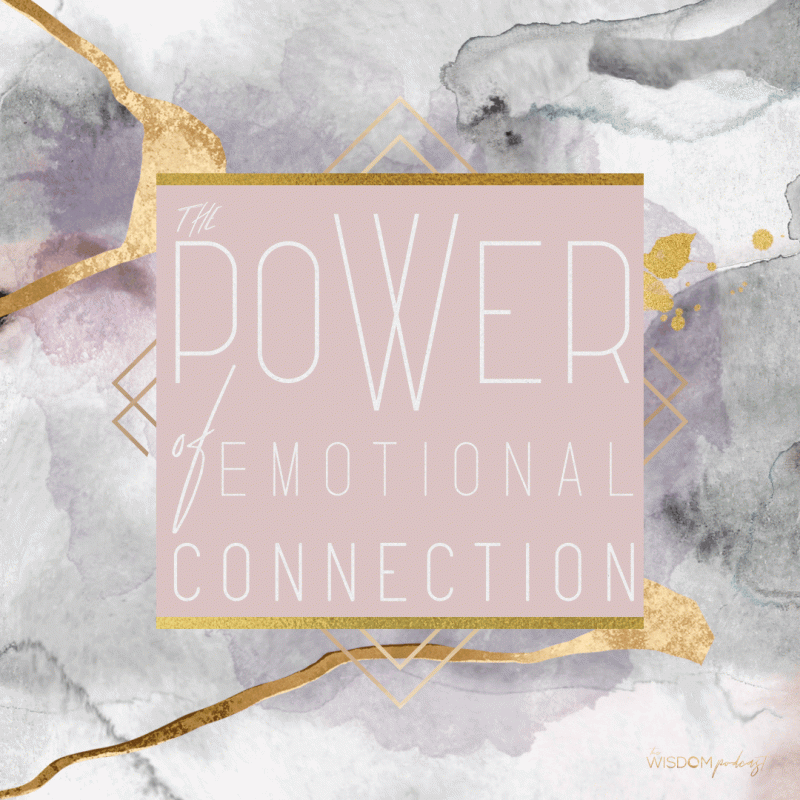 The POWER of Emotional Connection In Your Love Relationship
The WISDOM podcast  Season 1  Episode 2
TIMESTAMPS:
Two Important 'Takeaways' From This Episode:  2:15  |  The Four Ways to Build Emotional Connection and Intimacy:  3:24 |  The Definition of Emotional Connection:  5:38  |  How Emotional Connection Happens:  6:23  |  One Assumption You Might Have About Love:  10:08 |  The Two Questions to Ask Yourself Which Determine Whether You Have Emotional Connection In Your Love Relationship:  12:04  |  Emotional Connection is Not The Same As Sexual Chemistry:  13:35  |  My Clients' Story - 'Meghan and Danny':  17:46
In this episode of The WISDOM podcast, I share with you the four ways that emotional connection and intimacy are built; how to rebuild connection and intimacy; and the real life story of my client Meghan who thought that the connection and intimacy that she felt was mutual, until she got to know her partner Danny, far better. 
One of the most important elements in determining the longevity of a mutually loving and healthy relationship is the degree to which both members of a couple feel emotional intimacy and connection. 
In this episode, we dive into what is most needed and what holds a love relationship together through life's challenging moments; allowing a couple to feel an intimate and special closeness, the desire to remain faithful and committed to one another, and to continue to learn about each other.  This is a depth of emotional intimacy and connection that is cultivated and sustained throughout the course of the relationship.
How You Build Emotional Connection and Intimacy:
(1) Authenticity:  be honest and truthful about who you are; be willing to reveal your personality, including your 'likes' and 'dislikes', what you think about and believe in, and the values that you hold.
(2) Vulnerability:  Your willingness to reveal personal and intimate aspects of yourself (as you feel safe to do so) that you would not likely share with the rest of the world; admit your faults and wrong doings and be willing to apologize and make things right when you have hurt someone (including your partner).

(3) M

utual Respect:  Be willing to uphold and maintain respect and kindness towards your partner even when you both may be in the throws of an argument (because you can destroy so much of the closeness and vulnerability that comes from opening yourself and sharing deeply when you are not respectful nor kind; or if you are at times - purposefully hurtful or vindictive).
(4) U

nconditional Love

:

  be love; purely, completely, and without conditions or expectations.
"Emotional connection in a love relationship is built on the intimate sharing of who you are, the personal details of your life (past and present), your future dreams and aspirations and who you still desire to be. 
Connection and intimacy is cultivated out of your discerned liking (and love) of someone, your genuine interest and desire to learn and know more about the other person and to willingly reveal your whole self - with complete honesty and openness."   
- dorothy zennuriye juno
"One critical element required by both members of a couple when building emotional connection is complete honesty."
- dorothy zennuriye juno
It is in being vulnerable and wholly honest with yourself first, that allows you to become more aware of what you may be in denial or avoidance of.  
The deepest aspects of your self that you are able to reveal to your partner are often the aspects that need to be healed from your past.
In the early stages of dating, when you like someone and want to appear favourable in their eyes, it is natural that you want to show them the parts of your self that you want them to see.
The (deeper) emotional connection that you establish is built on your mutual ability to be vulnerable, to reveal all of your self even in moments when you are not at your best; and to consistently offer unconditional love, respect and kindness to your partner.
You must speak up if their behaviour is undesirable or unkind but you can do so with love, respectfully. 
This allows you to feel safe; to be secure in the commitment of your relationship; and to strengthen your belief in your worthiness of being loved.
"Emotional connection is established and deepened by your ability to trust in another wholeheartedly and to feel safe and secure that you will be accepted unconditionally and not judged for who you are." 
- dorothy zennuriye juno
"Our emotions serve as a strong indicator and a launching point for all of the choices we make since we are most influenced by how we feel.  The more information we acquire about someone that is pleasing to us (for example, as they present to us as sharing similar values, beliefs and life goals), the more appealing we find them as a potential life mate, and the greater our desire and attraction towards them."
"Emotional connection and support is expressed most readily through loving words, understanding, patience and thoughtfulness."
And a loving end note: Regardless of how long you have been in relationship with someone, the emotional connection must continue to be nurtured and coveted as sacred.  
Sexual intimacy and physical affection can definitely help to keep an emotional connection strong; but it is also important that a couple be intimate in their sharing of thoughts and feelings; in working together on their life plans and goals; and in who each is becoming.
Click here to download Relationship Rx:
A journal writing exercise for reflection and re-connection 
A special thanks to my Audio Engineer, P. Kirpikau  radioplato

Podcast Theme Music: 'Aura' from the Album, Illuvia by Eternell  www.eternell.net/album/illuvia

Accompanying Music:  'To See' by Ludvig Cimbrelius

 

 

Sharing the wisdom and beauty of divine love with you...

Namaste!